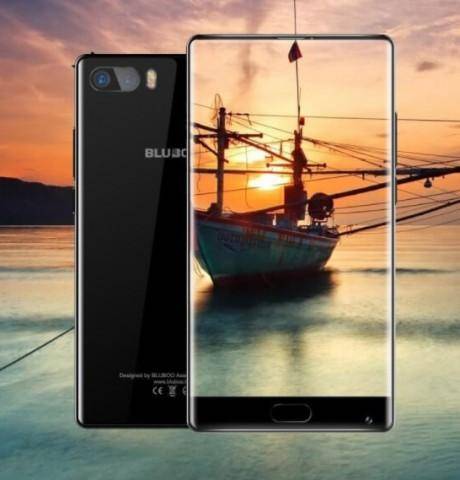 Copyright TechGlyphs.tk
1.Bluboo S1
The device is virtually devoid framework exception is made for the bottom edge with the "Home" button, panoramic fingerprinting and six megapixel camera. Computing power provides Helio P25 eight-processor clocked at 2.5 GHz and 6 GB of RAM 128 GB own memory. Display Full HD from Sharp diagonal 5,5 "covered glass Gorilla Glass 4. The rear panel 16 is installed megapixel camera with additional VGA-module for estimating the depth of the space and the distance to the subject - it allows to take pictures with a blurred background, highlighting the main subject in the frame. The battery capacity of 3500 mAh that supports fast charging.The device is running Android 7.0 Nougat.
2.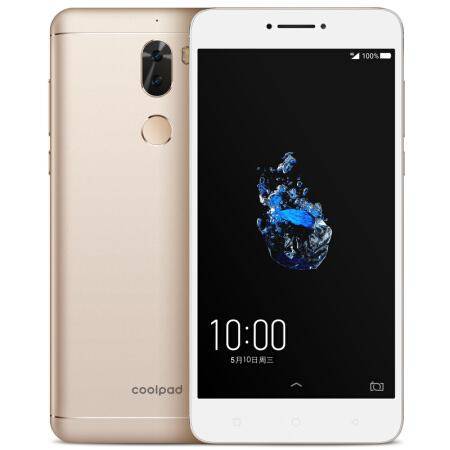 Copyright www.techGlyphs.tk
Coolpad Cool Play 6 focuses primarily on mobile gaming fans. IPS-screen diagonal of 5.5 "and a resolution of Full HD has a good margin of brightness and vivid colors. Performance provides a Qualcomm Snapdragon 653 processor, 6GB of RAM and 64GB of ROM for storage and fast data reading. The impressive battery with a 4060 mAh battery provides 252 hours . in standby mode, nine hours web-surfing or six hours of continuous play on your smartphone on the back of the placed double main camera: 13-megapixel color module from Sony and an additional monochrome sensor to improve the sharpness of the image Coolpad Cool P. lay 6 "out of the box" running under Android 7.1.1 Nougat. Declared support for Bluetooth 4.1 and bi Wi-Fi in the 2.4 and 5 GHz.
3.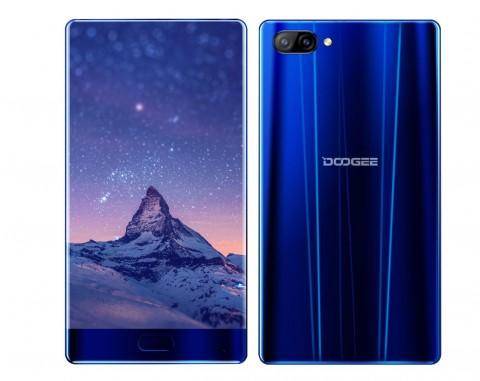 Copyright www.techGlyphs.tk
Doogee Mix smartphone refers to the so-called frameless devices, though under the screen it still has a panel with the "Home" button, fingerprinting and a front camera. But with the other three sides of frames is not, and thanks to this 5.5-inch gadget appears to no longer classic smartphone with a screen five inches. For the production of matrix Super AMOLED Samsung is responsible. The same manufacturer has provided two sensor ISOCELL: with a resolution of 16 megapixels (color) and 8 megapixels (monochrome). Doogee Mix is ​​able to do high-quality images in any conditions, with due phase autofocus adjusts to your subject in just 0.1 seconds. The presence of a dual-core camera caused the CPU MediaTek Helio P25, «sharpened" to work with dual modules: 12-bit coprocessor image signal MediaTek Imagiq technology support serves to provide advanced camera effects such as changes in the depth of field to blur the background. The processor is configured for 16-nm process and FinFET includes eight cores Cortex-A53 with a maximum clock frequency of 2.5 GHz. Smart phone will be available in different versions: with 4.6 GB and 64 GB of RAM, ROM, and RAM 6 GB and 128 GB ROM. the battery capacity is 3380 mAh battery.
4.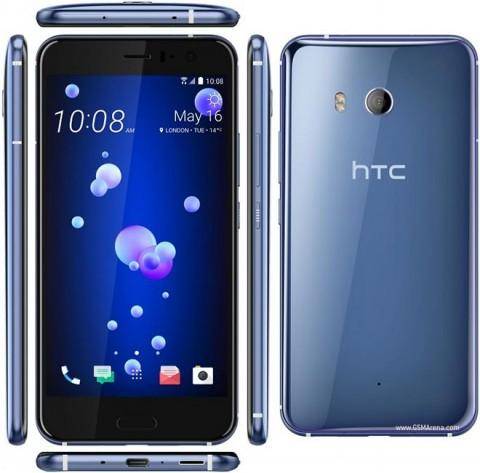 Copyright www.techGlyphs.tk
If we consider the HTC U11 from a hardware point of view, we have before us an ordinary flagship smartphone with a predictable set of characteristics: 5.5-inch display with a resolution of 2560h1440 pixel, eight-core Snapdragon 835, 4/6 GB of RAM, 64/128 GB ROM Card slot memory, battery 3000 mAh battery that supports fast charging QC 3.0, preinstalled Android 7.1.1 Nougat with a proprietary shell Sense, connector USB Type-C, NFC support two SIM-slot with support for the LTE, from the standard IP67 water protection. But the feeling of mediocrity literally fading away with the first touch to the HTC U11. The body is made of glass with the transition to a metal frame, with side frames smartphone sensitive to compression of the body by hand - this is an additional possibility to control the smartphone. For example, pressing phone for a few seconds, you can turn on a flashlight or run any desired application - functionality can be adjusted individually by the user. The smartphone two cameras 12 megapixel main camera with optical stabilization lens with an aperture of f / 1.7, the focusing system Dual Pixel, and "frontcamera" 16 Mn with f / 2.0 aperture. Resource DxOMark appreciated the quality of images on HTC U11 90 points - the highest score to date. It is worth noting the possibility of 360-degree sound and acoustic focus. For example, if you conduct a street shooting in the streets and saw interesting action, just move it to the camera and the smart phone will automatically mute all other sounds, recording only the necessary audio information. HTC U11 - the only smartphone on the market that comes with up to three virtual assistant: Google Assistant, Amazon Alexa and Sense Companion. Last analyzes everything that the user does by offering him a further useful information. Phone also monitors the implementation of the daily value of physical activity. HTC U11 is available in five different colors: silver, blue, black, white and red.
5.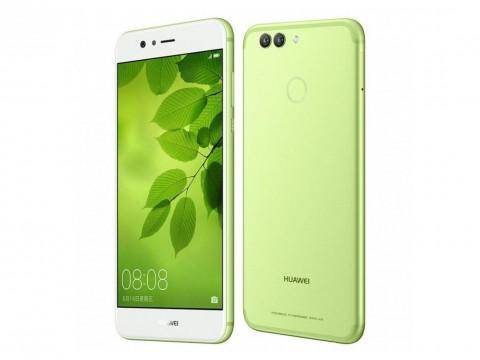 Copyright www.techGlyphs.tk
A year ago, Huawei unveiled smartphones nova and nova Plus, the calculated on active young people and fans of advanced solutions at an affordable price. Apparently, the calculation was correct and in May 2017 the Chinese vendor introduced updated smartphones nova 2 (5 ") and nova 2 Plus (5,5"). The device looks exactly the same, as compared with the original decisions of the key changes are two new non-standard body colors and a double main camera. The front camera 20 megapixel well "equipped" to create self-portraits: supports function decoration face Beauty 4.0, blur the background and even the creation of 3D-images. The main chamber 12 is represented by the standard wide-megapixel sensor and vosmimegapikselnaya telephoto sensor as in Xiaomi Mi6 and iPhone 7 Plus. The main chamber has a aperture ratio f / 1,8, the optical stabilization background blur function and an optical zoom without loss of quality. Other features at the nova and nova 2 Plus include: screen Full HD, made of LTPS In-Cell technology, eight-processor Kirin 659 graphics Mali-T830 MP2, 4 GB of RAM, expandable built-in memory to 64 GB in nova 2 and 128 GB nova 2 Plus is, a dedicated audio chip AK4376A Hi-Fi, speakers, creating the effect of surround sound, fingerprinting on the back side, the LTE support, Wi-Fi 802.11 b / g / n, Bluetooth 4.2, USB Type-C port and a 3.5mm headphone output. The capacity of Huawei's nova 2 Battery 2950 mAh, from nova 2 Plus - 3340 mAh, both claim to support fast charging. "Out of the box," running Android 7.0 Nougat with a proprietary shell EMUI 5.1. Smartphones will be available in pink, gold, green, blue and black colors.
6.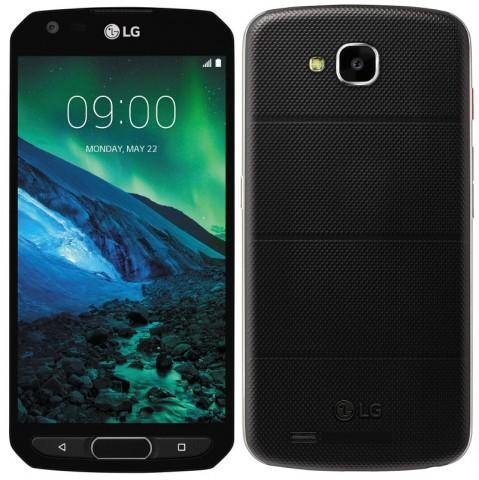 Copyright www.techGlyphs.tk
LG X venture turned out to be perhaps the most distinctive May novelty. Its key difference - Protection Standards IP68 and military certification MIL-STD 810G. This means that LG X venture is able to withstand a half-hour water immersion at one and a half meters, ready for use at extreme temperatures and has improved resistance to shock loads. LG X venture with Outdoor Essentials platform provides a barometer, a compass, the function "Activity" to track the number of steps, distance and counting calories, exercise tracker, flashlight and weather forecast. smartphone reinforced metal housing frame, the back cover is covered with anti-slip layer, three front buttons - mechanical, and on the left side - QuickButton button for simple operation in gloves, in rainy weather or cold. Resolution 5.2-inch display is 1920x1080 pixels, installed inside Qualcomm Snapdragon 435 processor and 2GB of RAM. Internal memory LG X venture can be expanded to 2TB with a memory card. The smartphone is equipped with fingerprinting, located below the screen. Frontaly 15 megapixel camera with a viewing angle of 120 ° is suitable for group selfie and the resolution of the main unit 16 Mn. For autonomous responsible 4100 mAh battery capacity, which is due to Quick Charge 2.0 technology recovering from 0 to 50% less than an hour. It supports LTE, Wi-Fi 802.11ac, Bluetooth 4.2, NFC.
7.
Copyright www.techGlyphs.tk
In 2017, Lenovo has decided to launch a brand new range of smartphones Moto - Moto C and Moto C Plus. Despite Plus console, diagonal presented novelties same, five inches. The main difference - in battery capacity and processor model. The quad set Moto C chipsets MediaTek MT6737M with a frequency of 1.1 GHz or 1.3 GHz MT6580M on 2350 mAh battery, 1GB of RAM, a five-inch screen with a resolution of 854x480 pixels. The presence of cameras nominal than real utility: 5MP with autofocus, flash and digital zoom on the back side of the case, a 2-megapixel front, although it is worth noting the presence of its own flare. It supports standard Wi-Fi interfaces, Bluetooth, LTE. Moto C Plus equipped MT6737 quad processor with an operating frequency of 1.3 GHz, 1 or 2 GB of RAM, the main chamber 8 Mn autofocus digital zoom, front camera 2 Mn flash. According to the manufacturer, in this configuration, Moto C Plus run for more than 30 hours.
8.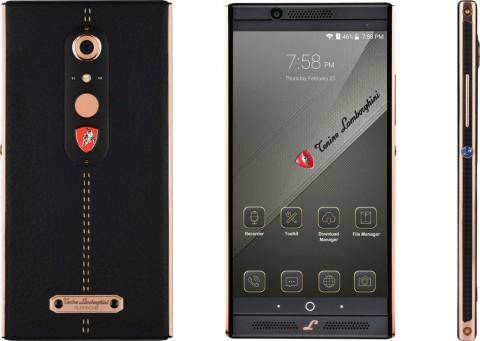 Copyright www.techGlyphs.tk
Lamborghini Alpha One smartphone has become an unexpected but very welcome novelty in the market: for the first time in many months preparing to release a combination of premium materials, luxury design and advanced features. The device is designed for lovers of high-end solutions. Alpha One housing made of thin and durable cplava LiquidAlloy, rear panel and covered with a thin wear resistant Italian wheel and front-mounted 5.5 AMOLED-inch screen with a resolution 2560h1440 pixels. During the performance meets Alpha One quad-core Snapdragon 820 with a maximum clock frequency of 2.15 GHz is paired with 4GB "RAM" and 64 GB of ROM. Built-in battery capacity 3250 mAh enough for eight hours of work when on the display and the quick charging technology allows you to Quick Charge 3.0 hour to fill up 89% of the charge. Support technology Surround Dolby Atmos, Dolby Digital Surround and Hi-Fi provides high-quality sound as the two stereo speakers and external speakers. The main chamber 20 from the Mn value of the lens aperture f / 1.8, and optical stabilizer creates detailed images even in low light conditions. Fingerprinting allows you to not only unlock the smartphone, but also to control the camera and answer incoming calls. Among other features Lamborghini Alpha One should note the presence of a universal connector USB Type-C, NFC, two SIM-slot and up to date version of Android 7.0 Nougat operating system.
9.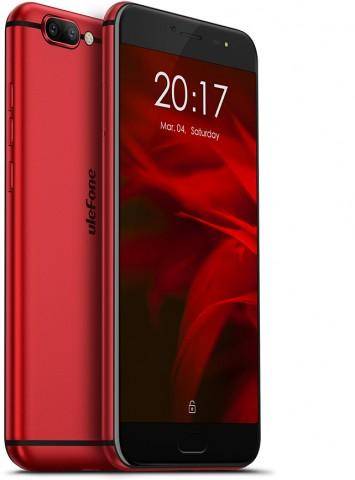 Copyright www.techGlyphs.tk
Ulefone Gemini Pro has become a classic representative of the performance of Chinese low-cost smartphone with top features, like the A-brands. The housing is mounted MediaTek Helio X27 processor with a clock speed of 2.6 GHz, a graphics accelerator Mali-T880 and 4 GB of memory. During predreliznogo testing in AnTuTu smartphone received more than one hundred thousand points. In Ulefone Gemini Pro uses a combination of color and monochrome 13 megapixel sensor Sony IMX258 - basic dual camera lets you take photos with a blurred background, change the point of focus in the final photograph and make 3D-models of objects. There is also support manual settings with the ability to adjust shooting settings. Ulefone Gemini Pro is made in the metal housing in black or red. Display Full HD 5,5 "protected 2,5D-tempered glass and Gorilla Glass 3 oleophobic coating. Below the screen there is a button" Home "with fast 360-degree fingerprinting. Smartphone equipped audiochip TFA9890 for loud and clear sound. Preserved and 3.5 audio-mm. The battery capacity of 3680 mAh that supports fast charging provides up to 450 hours of standby time or nine hours of video playback. Ulefone Gemini Pro runs on Android 7.1.1 Nougat.
10.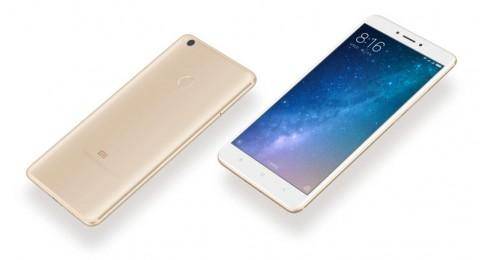 Copyright www.techGlyphs.tk
In the past year, several manufacturers decided to release smartphone with large screen diagonal of more than six inches, but after a couple of months only Xiaomi decided to continue the experiment. Mi Max 2 got all the same 6.44-inch display with a resolution of 1920x1080 pixels, a prisoner in a body with almost the same size, but much has changed from a hardware perspective. During the performance is now responsible Snapdragon eight-processor 625 configured for 14-nm process, in tandem with graphics accelerator Adreno 506 and 4 GB of memory. The market will be represented by two models with the difference in amount of ROM - 64 or 128 GB of expandable due to a memory card. Rear set 12 megapixel main camera with Sony IMX386 sensor and aperture f / 2.2, in front - module 5 Mn and aperture f / 2.0. Special attention is given battery capacity of 5300 mAh with support for Qualcomm Quick Charge 3.0 Fast Charge. Present fingerprinting, the SIM-two slot with support for the LTE, infrared and stereo speakers.